Open Concept Floor Plan
by Haus of Blaylock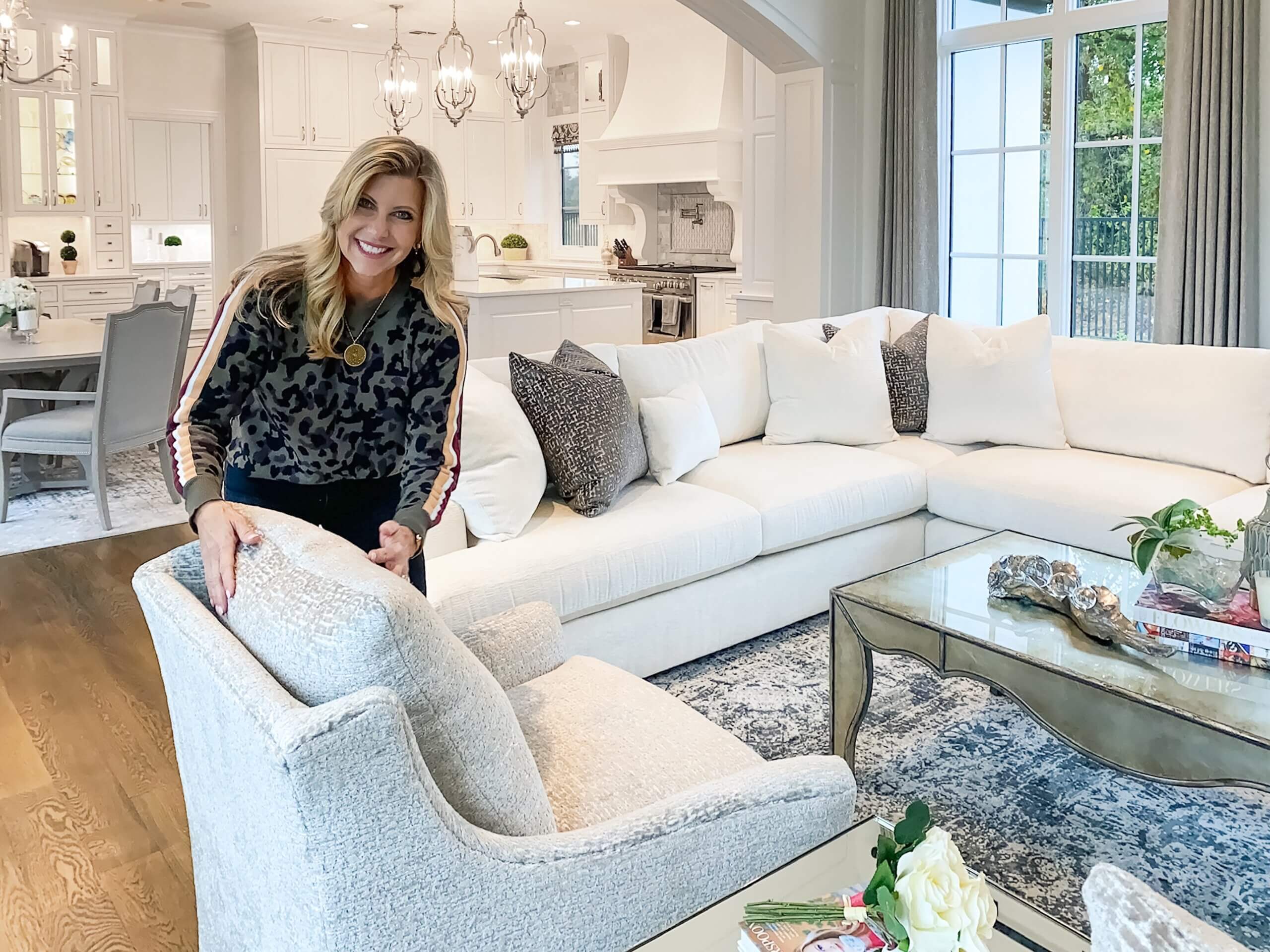 Open Concept vs. Segmentation of Rooms
In today's world, everyone wants spaces that are open to one another. Having said that, you don't necessarily need to open the front door and automatically see your entire home upon entry. There are certain spots you can confine, creating a beautiful environment, that then opens up into something really exciting.
Another neat trick is using different flooring to separate the rooms. This really helps to transition from one area to the next. For example, using natural stone for the entry, which then turns into hardwood flooring as you walk through the rest of the first floor. You can see an example of this in the Modern French Manor that I designed. 
Silencing the Sound
For any home you moved into, you'll often hear echoes until you get your furniture moved in. This is especially true with open concept floor plans. An easy fix for this are area rugs in each of the spaces and a bit of drapery. Lucky for you, I make incredible custom drapery that is tailored to each of my client's needs. It can be hard to find the right window treatments for your home, especially when you're looking for something that either blocks out sunlight or masks noise, while simultaneously being the right length and style. You want your drapery to pull together different aspects of the space and create balance and intimacy, especially if you're dealing with a very tall room.
Creating Intimacy Between Spaces
Open concept floor plans are great for big families or those of you who love to throw parties and entertain. However, having enough space isn't enough, you also need to create intimacy between those spaces, which you'll achieve through proper space planning. For those of you that don't know, space planning is all about how you plan on arranging your furniture. Most people want to push their furniture up against the wall and call it a day. But those of you who have an open concept floor plan, I'm going to need you to fight this urge. Your walls are too far away from each other, which is why the idea of floating furniture is perfect for you. 
When selecting furniture, think of them having a conversation with one another, this way when you and your guests take a seat, you'll naturally be able to see each other's faces. Angle the furniture, square up the sofa, or have two sofas facing across from each other with some chairs. Space planning is very important and it always helps to start off by finding the right rug size for the space, then selecting furniture pieces that can be anchored to it.
Need more inspiration?
Check out some of my other projects here.