Romanticism | Decades of Design
by Haus of Blaylock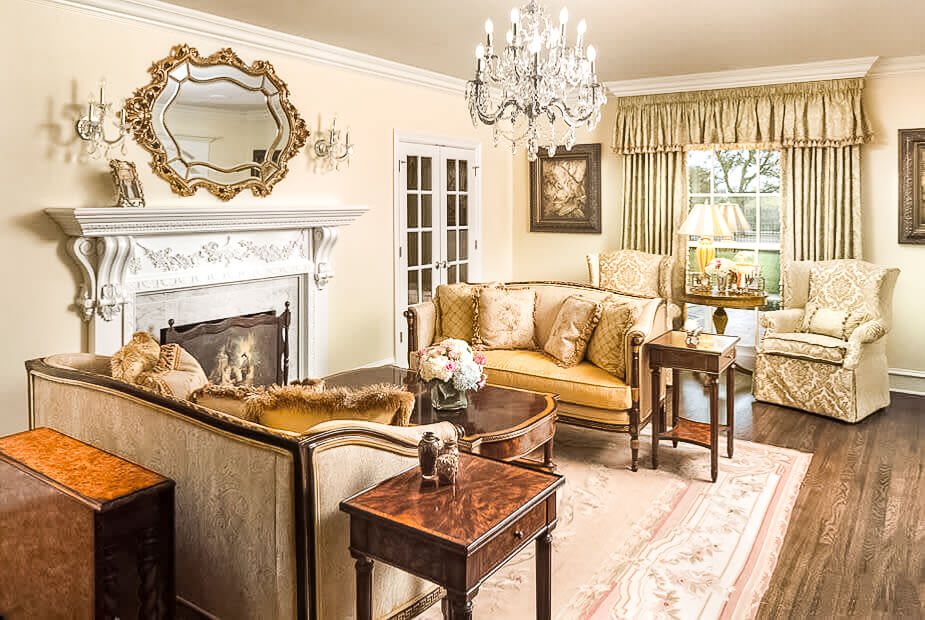 If you come across a space using romanticism, you'll immediately be able to identify it based on the design's use of romanticism's four principles: emotion, imagination, individual freedom, and nature. All major characteristics of 19th century Europe. Heavily influenced by medieval Europe, consisting of gothic revival, exotic designs, and Asian styles. 
19th Century Europe
Gothic revival resembled 12th-century cathedrals, including pointed windows, peaked roofs, and asymmetrical floor plans. Meanwhile, "exotic" designs at the time referred to anything out of the ordinary. For example, greek columns, Swiss chalets, and during the late 18th century, spaces primarily consisted of Asian-inspired designs, also known as Chinoiserie. 
Louis XV ushered in the beginning of Romanticism with his love of polish fashion and canopy beds. And if you happen to ever see any furnishings with flower, plants, or dragon designs, know that those are Chinoiserie and are mostly used in women's dressing rooms and bedrooms.
In the later part of the 19th century, romanticism combined with neoclassicism. Bringing straight lines of mahogany and brass into the forefront of interior design, and becoming the precursor to Art Deco.
How to Style Your Home
Start with a neutral color palette of soft earth tones or light pastels, this will really help soften the room. My go-to colors have always been either white (favorite white color) and cream (favorite cream paint). Next, you'll want to add some comfort to the room by using classic pieces of furniture. Pieces that are plush, such as upholstered armchairs, sofas, and beds. Want to add an extra bit of softness? Use furniture pieces with curves.
Romanticism is more of a feminine style, so fabrics such as lace, chiffon, ruffles, satin, velvets, and floral designs are a MUST. You can always add masculine decor in small doses to keep things balanced if you're designing a shared bedroom or family room. If you want to brighten the room, you can never go wrong with a silver mirror or lamp. But when it comes to lighting, you'll want something low voltage or have a dimmer switch, this can really help control the atmosphere of the room. And last but not least the rug! As I've said in my previous family room blog, when it comes to rugs, I always say the bigger the better! Just be sure to select one that has an antique-looking design, it'll really help bring the whole room together. 
A great way to add that aged look is by incorporating vintage dressers, desks, or tables.